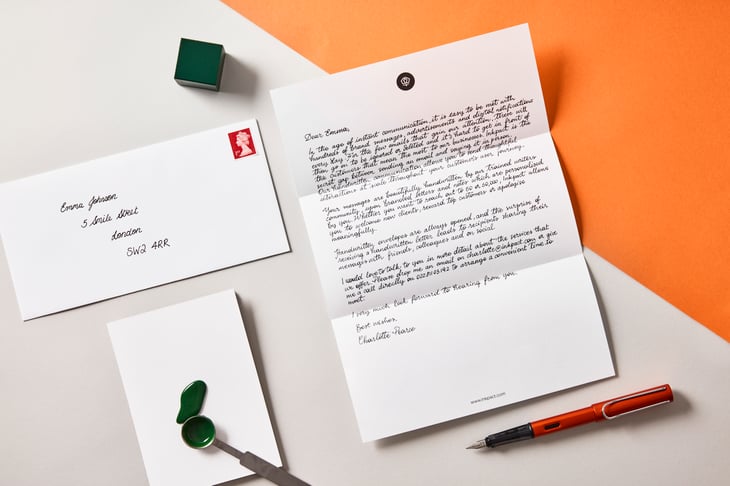 Your Customers Need A
Love Letter!
My dad won over my mom with handwritten letters. He pursued her with a pen and paper and magical words sent from afar while they dated long distance. Sweet notes to make her laugh and make her feel special, changed her life. She still has them 25 years later (I know, so adorable). They make me believe in the pen to paper magic. Their story is straight out of a romantic movie, but the magic of handwritten notes is still real and even more rare today.
When sorting through bills and junk mail, there's nothing quite like finding an unexpected treasure in your mailbox. It's crazy how the experience of getting mail never fails to make my day. I love the humanity of holding a physical note in my hand. People have always called me old-fashioned, but I'm a sucker for mail and I've seen it brighten my relationships, both personal and professional.
The
humanity
of holding
a physical note
.
We at Inkpact are big believers in handwritten letters, in fact we think they might even change the world! We miss the days of pen pals and love letters, but we are on a mission to bring back the lost art. Just like the way a love letter makes you feel like you are being pursued, you can make your customers feel just as valued. There's something different about sending a potential customer, a possible new hire or your best client a handwritten letter over a thank you email. We have seen a 99% open rate when people rip open an envelope instead of glancing at just another email in their inbox. You will stand out. It is unique. It is memorable. It is personal. And it has a proven to make a financial impact too. Through our campaigns we have watched a 33% increase in sales, this means the handwritten letters really turn into more profit.
A
handwritten letter
over a thank you email.
We think you can make a real impact by incorporating handwritten letters into your workplace and we want to help! Let's change the game with an unexpected surprise, memorable note and a human connection because on our watch real mail handwritten by a real person isn't going extinct.
Because
real mail
handwritten by a
real person
isn't going extinct.
Looking for even more on incorporating LOVE in business? What Charlotte, our CEO, keynote called "What's love got to do with it."
---
More about how we do what we do at Inkpact:
In a sea of digital noise, we help you stand out from the crowd. Our secure online platform allows you to create personalized handwritten mail marketing campaigns. In a few simple steps our fully automated and integrated service delivers notes and gifts directly to your recipients' door. Every note is handwritten by real people, helping you connect on a personal level.
By: Gracie Schram