Inkpact was born in 2015 amongst the overwhelm of digital when Charlotte realised that the only way to get a message opened, read and truly felt was to take business communications back to paper and pen. She began bringing friends & students together while she was at university and building a group of scribes to complete jobs for small local businesses. Over the years we have grown the Scribe Tribe to match the demand of the ever-growing orders. Today the Scribe Tribe is 250+ strong, enabling Inkpact to turnaround tens of thousands of handwritten notes in just a few days.
Our Social Mission...
With a desire to create more flexible work for people in the UK, our Scribe Tribe enables a whole range of people from parents, grandparents, students, artists & those recovering from illness to earn money from their kitchen tables. Affectionately known to us as The Scribe Tribe, they are a diverse group of creative freelancers who transform the copy you type into beautiful handwritten notes and letters. All handwriting styles vary, so we band our scribes into 3 categories for you to choose which best fits the look and feel of your brand.
We love each and every story from the tribe. Here is Siobhan's story about how she came to join The Scribe Tribe…
Siobhan's Story...

Tell us about your family background and where you grew up.
I am from the beautiful island of Trinidad. It's in the south of the Caribbean. It's very hot. Very very hot, all year round. It's like an island paradise. Happy go lucky people. My immediate family is regular size; my mom, my dad, and my younger brother and sister. But my extended family is much bigger. My mom has eleven brothers and sisters which meant I grew up with a lot of cousins and people around the house.
What does your typical day look outside of Inkpact?
Outside of Inkpact I work at a boarding school in England. If I'm on the morning shift my day would begin at 6:00 am or if I'm going to do some exercise I'll wake up a little bit before. A girl's gotta run! Then I take care of the kids and make sure they get to school on time and looking smart. I have to sew up holes in uniforms, monogram initials on blazers, reattach buttons... If I'm on the evening shift I make sure that the communal areas are kept tidy, mentor the children, help them do their homework, support them with their assignments and exam prep. I'm just there to support them.
And how does being a scribe for Inkpact fit into your day to day life?
Being a scribe for Inkpact fits almost perfectly into my day to day life. After the morning shift the students go off to school and I have a couple of hours of silence in the boarding school, I can use that time to write, to get tasks done. If I'm on evening shift there's no chance of getting any notes written!
So why did you join the Scribe Tribe and what are the main benefits for you?
I joined the scribe tribe first and foremost for some extra money. But when I looked into the company further, learnt about their mission and also seeing that they had a young female CEO it excited me and I thought I need to get on board. Also I have a love for stationery and appreciate really neat handwriting. I love it. I love it. I love it.
Can you talk us through the process of requesting a job and writing the letters?
When see a job request come through it's important to check when the quality assurance deadline is, how many letters there are and the message length. I cross check with my schedule to see if I have time to complete the job. Then I fire off my request. I get all anxious waiting to see if I got the job!
Then there's a couple of days to wait for the stationery to come. I always get so excited when it arrives because I'll get a call from the main office, "Hey there's a package here for you." It's wonderful opening up the package and seeing the beautifully designed stationery. One time the stationery was actually gold embossed! That was a really exciting job to write.
To get the job done I ensure that my little desk in my room is prepared and clear. I like it when things are in order. I take the empty stationery and start writing the card and then the envelope, I fill it when the ink is dry and then I put it into a pile ready for quality assurance.
After I finish writing I upload images of each note to the Inkpact platform to be reviewed. Waiting for approval is always a little bit tense in case you've done something wrong and you have to go back and rewrite. But the moment QA comes through saying everything's good to go, you look at the work that you've done and feel very accomplished. You really have to take your time. It requires a lot of patience. Then I stick stamps onto the envelopes and walk a couple of minutes to my nearest post box and send them off.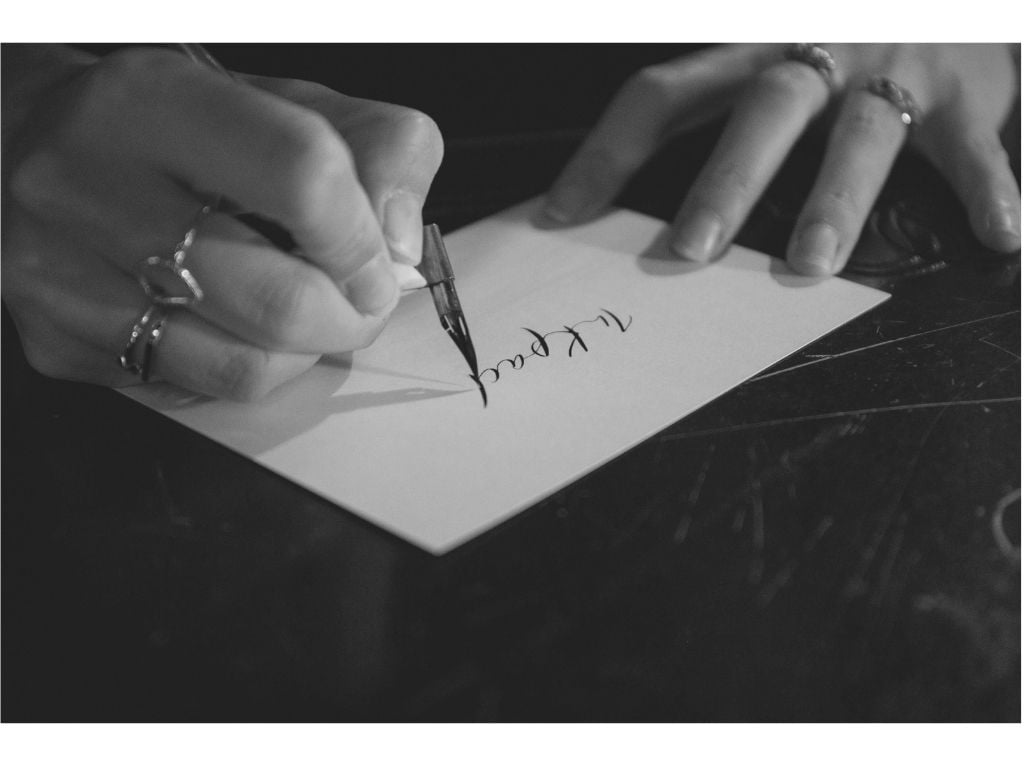 What are your favourite types of campaigns to write for Inkpact?
My favourite types of campaigns to write for Inkpact definitely are the ones that have shorter message content. I don't mind writing a hundred tasks if it's just about 65-70 words per note. You go more than that and you increase the risk of making a mistake and I really don't like coming to the last sentence and 'ahhhh' a smudge or a mistake, and you have to start again. So I definitely prefer the shorter letters and notes.
How does sending handwritten notes make you feel personally?
Sending handwritten mail makes me feel kind of like Santa Claus, delivering happiness. Thinking that I'm part of that process of delighting people, sending a smile, gives me a warm fuzzy feeling knowing that somebody received something and they feel appreciated.
Have you recently performed any random acts of kindness or did anyone do anything thoughtful for you?
Recently my sister came to visit me from Trinidad. I was very excited for her visit. We had lots of fun and then she left and I was sad. But a couple weeks after she left it was my birthday and my colleagues called me aside and said they had something for me. They passed me a very compact glass jar with a cork lid. My sister had spent months filling the jar with messages from my friends and family back home, my mother, a former work colleague who I was very close to, two of my close friends from uni and loads more. There were messages of encouragement, memories, favourite poems, doodles. She said to read one every day or if I feel like I need a pick me up open a couple! It was so thoughtful of her. I felt very, very touched and very, very loved.
If you could write a letter to anyone in the world who would it be and what would you say?
If I could write a letter to anyone in the world, I would without a doubt write to my parents. I mean it's two people technically... but my parents as a collective. I would tell them how appreciative I am of my upbringing, of the sacrifices that they made for me moving away from home. You know that saying absence makes the heart grow fonder, its given me the opportunity to reflect on my upbringing, reflect on what they did for me, what they continue to do for me and I really would like to let them know how much I appreciate it. Family members need to hear these things.
Other than Inkpact what brands do you love and why?
Other than Inkpact a brand that really inspires me is Lush. They involve people in every little aspect of their handmade products. They also use lots of fresh ingredients, I love that. It feels less chemically, better for the environment. And I really do love that you can bring their packaging back to them and they recycle it to use as packaging again. I think that is a brilliant idea.
What makes you cry with laughter?
The silliest of things make me cry with laughter. I love love love laughing. You know Snapchat has those filters that can make your voice really high pitched and make your face look round? I think it's especially funny when my mom does it because she doesn't really have social media. It's just so hilarious!