Inkpact is helping to give corporate gifting a makeover, say goodbye to throwaway plastic rubbish, say hello to beautiful, ethical and sustainable treats that people will really love. It's about time, right?
The B2C gifting market has moved on considerably in the last few years. Businesses are recognising that consumers respond best to beautiful and practical products, ethically sourced and sent in as little packaging as possible.
As ever though, the corporate world is a little behind, and personalised corporate gifting has long been due a refresh. For the most part, B2B gifting still looks like mass-produced heavily-branded tat that no one really wants or needs. This is unlikely to create much of an impact - in fact it could actually put people off. So what can you do?
We can make personalised corporate gifting so much better
Gone are the days of branded lanyards or cheap umbrellas so heavily branded you'd rather get wet than use them! Say goodbye to pens, USB sticks and stress balls covered in logos.
We decided it was time someone created a corporate gifting range that offers beautiful, unique, ethically-sourced gifts from local suppliers that show the planet the respect it deserves. So, we went ahead and created one! And oh my, is it everything we wanted and more…
Practical. All our offerings fit through a letterbox, making them perfectly suited to busy lifestyles. No one wants to go to the post office and stand in line to get their parcel after a long day at work.
Desirable. Crucially, corporate gifting needs to feature products which are actually wanted and appreciated by your customers and employees. We did this by working with some amazing brands we know and love - collaboration over competition, always.
Sustainable. Our gifts are made from recycled materials where possible, from the leather used in our personalised accessories to the packaging across all our products. We love you Mother Earth!
Classy. Gifts can be branded in a beautiful way so that recipients know who you are, without splashing your logo across absolutely everything!
Unique. Inkpact was founded on the premise that handwritten notes can create real human connections, so personalised corporate gifting was a no brainer for us. An accompanying handwritten note comes as standard with any gift, but we can also add embossed initials cleverly pulled through from our ordering platform. Either way, your recipients will love the gift which was thoughtfully made for them.
Affordable. All of our corporate gifting options are under £30, because we know every penny counts. Besides, those anti-bribery laws are strict, and we know you simply want to say thank you. Don't worry, we've got your back.
The result… tada! Breathtaking, aren't they? If you received this from a business, wouldn't you be overwhelmed and impressed at how thoughtful they were?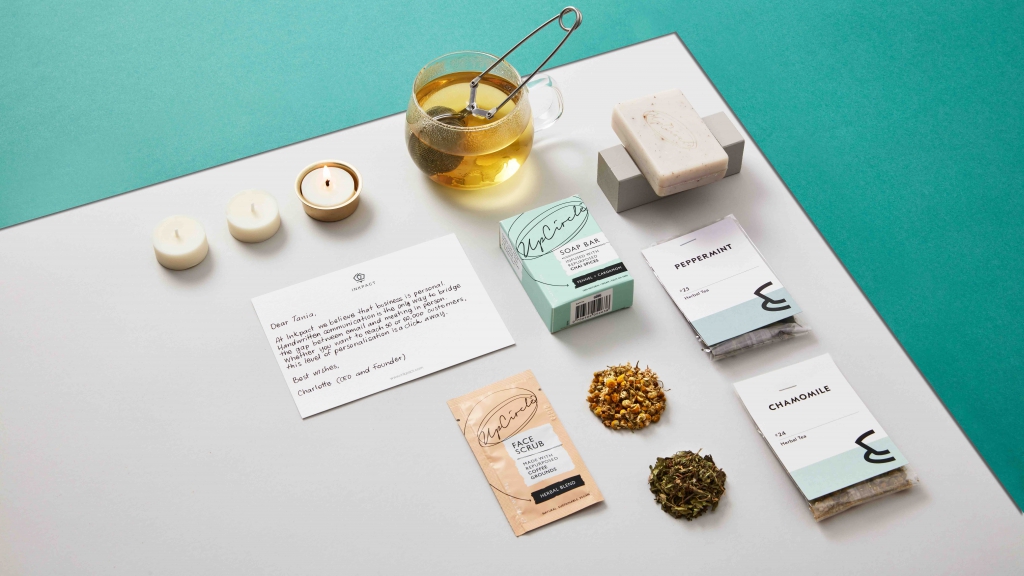 The proof behind corporate gifting
Some of you more analytical marketers may be thinking, this all looks great Charlotte, but does it really work? Well, last year we helped one client to send gifts to some of their lapsed customers, and the result was a healthy £2m in revenue... Not bad at all!
You may also be asking, Charlotte, how can we trust the quality and how can you possibly ensure this across orders of thousands? Just like with our handwritten notes, quality is our top priority. Luckily for us, our technology quality-assures each of our handwritten notes and gifts. Don't just take it from me - take it from John Lewis, who use us for their Christmas corporate gifting campaigns and send orders of 5,000 every year.
Oh, and also trust Nigel, Nigel is great!
"Inkpact made sending client gifts so easy, one client said it was the most thoughtful gift they'd ever received! It's strengthened many relationships and I barely lifted a finger" - Nigel, Hexion Inc.
Personalised corporate gifting doesn't have to be a headache
Now, if you are sitting there thinking, I get it, I love it, where do I order… here's my final piece of good news. We love technology, in particular our technology, so all of your truly sustainable personalised corporate gifts are just a few clicks away.
Head to our website and choose your product. You'll then be taken to our client portal to personalise, upload recipients, pay and send. It really is that easy.
You type. We handwrite, package and post. You sit back and receive the heartfelt thanks.
Speaking of heartfelt thanks, I owe a big one to Hannah, Head of Gifting and Operations, for such a beautiful corporate gifting collection, and all the hard work she, Jon, Andrew, Kate and the rest of the team have done on our beautiful new website.
Love always,
Charlotte