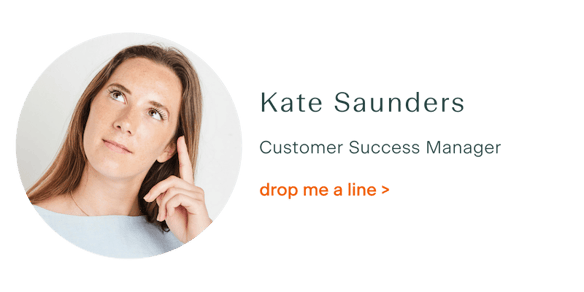 Are you in pursuit of attracting new customers and creating excitement around your brand? To grab the attention of ideal clients, and improve conversion rates from cold prospects to warm leads, more and more sales teams are looking to the post box as an uncompetitive space to start conversations and build relationships. At Inkpact we see prospecting direct mails campaigns of all shapes and sizes, from the cringey to the creative, uninspiring to the unimaginable. Increasing in complexity throughout the article, we will highlight campaigns that impressed us and the parallels we have drawn between successful direct mail campaigns.
Themed printed collateral
Oracle - Rest Easy with Netsuite
Oracle sent 50 senior individuals from health and beauty companies a parcel in the post that was designed to look like a beauty subscription box containing a Sleep Spray gift along with an eye-mask shaped booklet about their software Netsuite. The tagline was 'Rest easy with Netsuite'.
BMW - Cold Weather Tires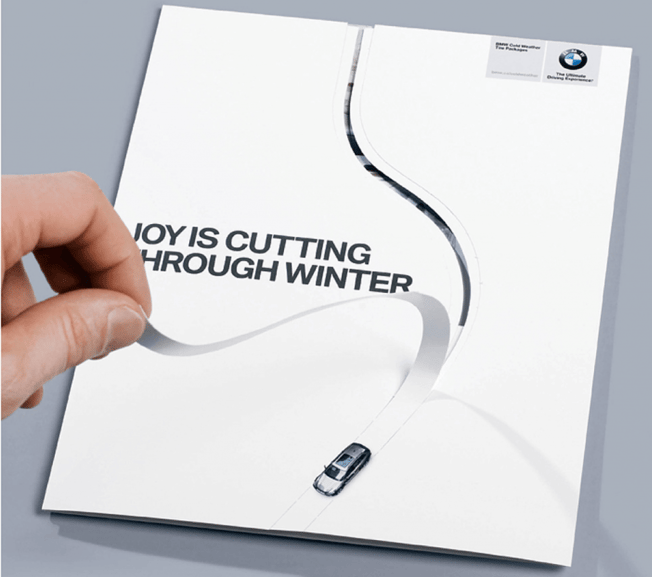 BMW posted customers printed brochures marketing their winter tyres with a perforated pull-tab that mimics a BMW driving and cornering effortlessly through snow. This 3D piece gets the customer interacting and bringing the product to life.
Personalised Gifting Campaigns
Hewlett Packard - The Fixer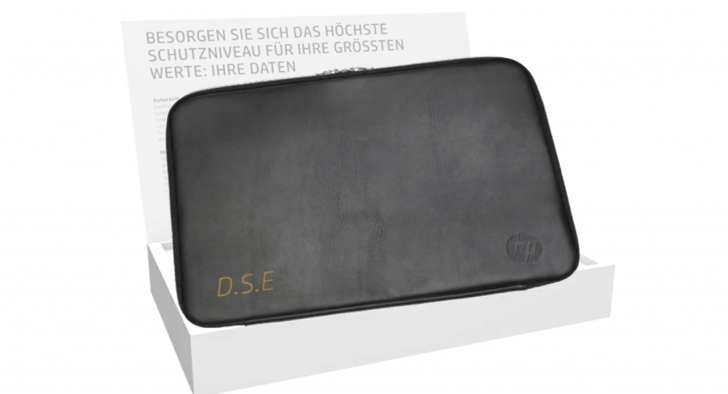 Transmission, a London based agency, executed a multichannel approach for their client Hewlett Packard covering social, emails, direct mail and webinars. The purpose of the campaign was to highlight the security features of the PC's. Personalised detailed reports were created along with high quality leather laptop sleeves, hand embossed and gold foiled with the customer's initial to fit their new HP laptops. They produced personalised reports for each target account. The top 300 engaged accounts then received customised package in the post containing the leather laptop sleeve gift. The result was 27,000+ hits to the microsite.
Drift - Winebot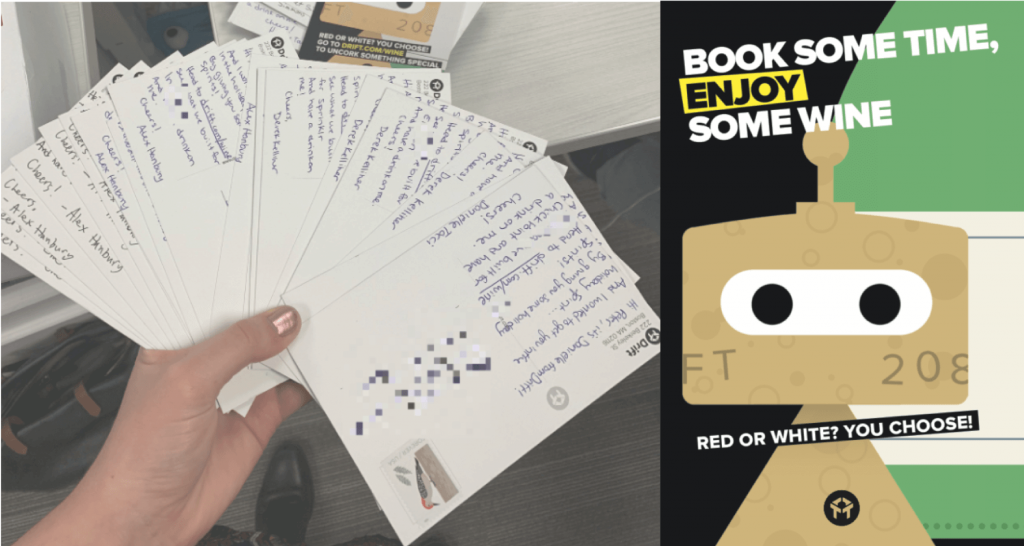 Conversational marketing wiz kids, Drift, trialled a direct mail campaign last Christmas they termed Winebot. The aim of the campaign was to get a response from their Enterprise Sales Reps top 10 target accounts before the end of the year. 1 or 2 contacts were identified in each account totalling 100 contacts in all. The tagline for the campaign was "book some time, enjoy some wine". If it wasn't obvious enough, once the prospect booked a meeting they got to select from red or white wine which was posted directly to them.
Before all else, brand awareness was ramped up by boosting paid linkedin ads targeting these specific 100 contacts. Handwritten postcards were sent with the CTA to type in the specifc URL taking them to a landing page where individuals were encouraged to interact with the chat bot (Drifts product). The hook 'book some time, enjoy some wine' was used to compel them to type in the URL. Once on the page, a bot was set up which recognised the company and personally address them once they put their email in. The target got to experience the magic of conversational marketing first hand, enticing them to book a meeting to find out more. A sequence of 4 emails were sent as a follow up. The campaign resulted in a 10% conversion rate to meetings booked and counting (as calculated 10th Jan 19).
KCOM - Are you listening?
KCOM is one of the UK's oldest telecoms providers. They branched out into the enterprise tech space with some great customer success stories but were struggling to get new customers to listen so they ran a campaign called 'Are you listening?' targeting 500 senior decision makers. Spanning several channels this multichannel campaign won the B2B Marketing award for best use of direct mail.
The focus was to create an internal dialogue between IT and the teams that support customer experience. The sales team identified 5 contacts in each target account. Each contact received a direct mail piece containing a bluetooth speaker gift cleverly symbolising the theme of amplifying the voice of the customer. The box also contained a brochure called 'Love the sound of your customers voice' highlighting relevant customer success stories. The sales team then followed up by first phoning the marketing and ops contacts to gauge the reaction internally and then moved onto the main IT decision maker. The investment was £22,270, with a conversion rate of 25% creating a pipeline of £15.7 million.
Direct mail prospecting best practices
57% of respondents of the Business Gift Satisfaction Survey survey said that gifts impact their impression of the giver both positively and negatively. When designing your campaign think about how you want the receiver to feel when they open it. Because what they feel will dictate what they do. You should aim to make your campaign feel as human as possible and avoid seeming like you're bribing them to book a meeting.
1. Responsible and sustainable gifting. Consider gifts that tell a story such as 'made in the UK', handmade, sustainably sourced, recycled, made by minority-owned business. 94% of top execs believe that social gifts, and gifts that give back foster a deeper personal connection. Include a social mission with your gift to make the recipient feel good. At Inkpact we always look for win-win-win situations where possible.
2. Personalised and thoughtful gifting. When you're reaching out to senior people not only are you competing against all the other sales people fighting for their time and attention but you're also fighting against marketing in all its forms. So leverage you're greatest competitive advantage, the power to be more thoughtful and personal. Make the message in the accompanying note personal and personalise any gift or collateral where possible. Say no gift cards, they are impersonal and not memorable.
3. Strategic multichannel outreach. Introducing direct mail into your outbound sequence eradicates the typical pain points and barriers to entry of a cold sales call. Sending direct mail is not like pressing a magic button whereby everyone picks up the phone and books a meeting as soon as they receive your post (although some do). It is important that a follow up process is in place that covers several other channels to support the direct mail piece to ensure best possible ROI. Use both targeted paid ads on social in combination with emails and phone calls.
4. Quality content. Quality and value of content has to reflect both your brand and the organisational level of the prospect. Hence why quality is more important than quantity with ABM campaigns.
5. Tasteful branding. If you are gifting avoid plastering your logo anywhere. Putting your logo on pens, stress balls and calendars is unoriginal and screams "we sent you this so you think of us all the time", rather than "we think you are really important to us so we sent you this gift."
For every action there is a reaction - Sir Issac Newton.
Break the script.
As email response rates dwindle, the most successful sales teams are looking for more creative ways to communicate with prospects. In addition to the typical emails and phone calls sales teams conduct, utilise the power of direct mail to humanise your business, be memorable and create loyalty generating better ROI.