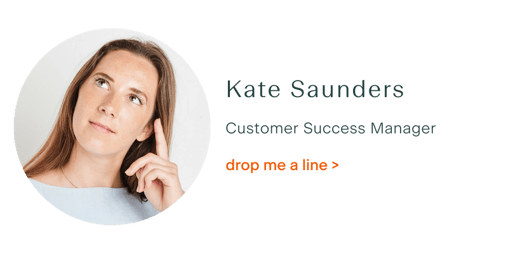 Many marketers can't remember the last time they ran an offline marketing campaign. But by closing the door on offline marketing, you may be forgetting one essential thing - your audience is human. As customer loyalty continues to evolve, could going back to basics be the key to brand success?
Purpose Driven Marketing
Customer loyalty and why we buy is shifting. The relationship between individuals and companies is changing. As the modern consumer becomes more aware of how products are made and the social and environmental impact they have, the purchasing decision is no longer about the product or service alone, but also the values and vision of the company they are buying from and therefore investing in.
The analogy of voting with your wallet is gaining popularity, and brands that make us feel good are reaping the rewards. Offline marketing experiences are emerging in different shapes and forms as brands attempt to convey what they stand for, their reason for existence in the most authentic, human way.
Everyone wants to be part of a tribe, a community who believe what they believe. People are finding their tribe as consumers of brands with depth and purpose. These people are your most loyal following, they more than advocate for the product they brought, they advocate for why they brought it. In this blog post, we are going to explore the best forms of offline marketing for communicating brand values, your why, to your tribe.
The purchasing decision is no longer about the product or service alone, but also the values and vision of the company you are buying from and therefore investing in.
Online & Offline marketing
Beautiful social media pages and inspiring blog content are top priorities for most marketers today. It's no big surprise. For consumers, online channels provide the convenience to read what they want, when they want and where they want (so long as there's good wifi). For the marketer, online channels provide vast reach for your brand, value for your budget and the ability to track data for analysis and reporting. What's not to love?
However, digital-only marketers are foregoing the trust building and emotive elements that come with receiving tangible packages or having face to face interactions. The most effective way to show customers you care is by treating them like a human, and the best way to do this is offline marketing. After decades of digital-only, consumers are starting to crave these more personal experiences and opportunities more and more.
Integrating multiple online channels across desktop and mobile is important and expected. However, the most innovative brands are really starting to pull away from the pack, integrating both online and offline marketing to create a seamless customer experience.
Why? In the words of leading advertising creative John Hegarty...
When the world zigs, zag.
Here are a few offline marketing examples from brands already creating meaningful experiences in this uncrowded space.
The Hiut Denim Yearbook
Hiut Denim make jeans. Here is what Cofounder David Hieatt has to say about the yearbooks they create annually: "The yearbook is used to tell people how we think as well as telling people what we make. Yes, buy our jeans because we make great jeans, but also buy what we are into… The yearbook is our way of telling the world what inspires us, what we stand for, and yes, what we make for a living. It is 144 pages of wonder, wisdom and inspiration from an eclectic bunch of people scattered all around the world."
"We get together at the farm once a year, this partly serves as bringing people together for the photoshoot, partly as a reunion for the people who make it happen." Here is a video about why they make yearbooks.
The Desmond & Dempsey Sunday Paper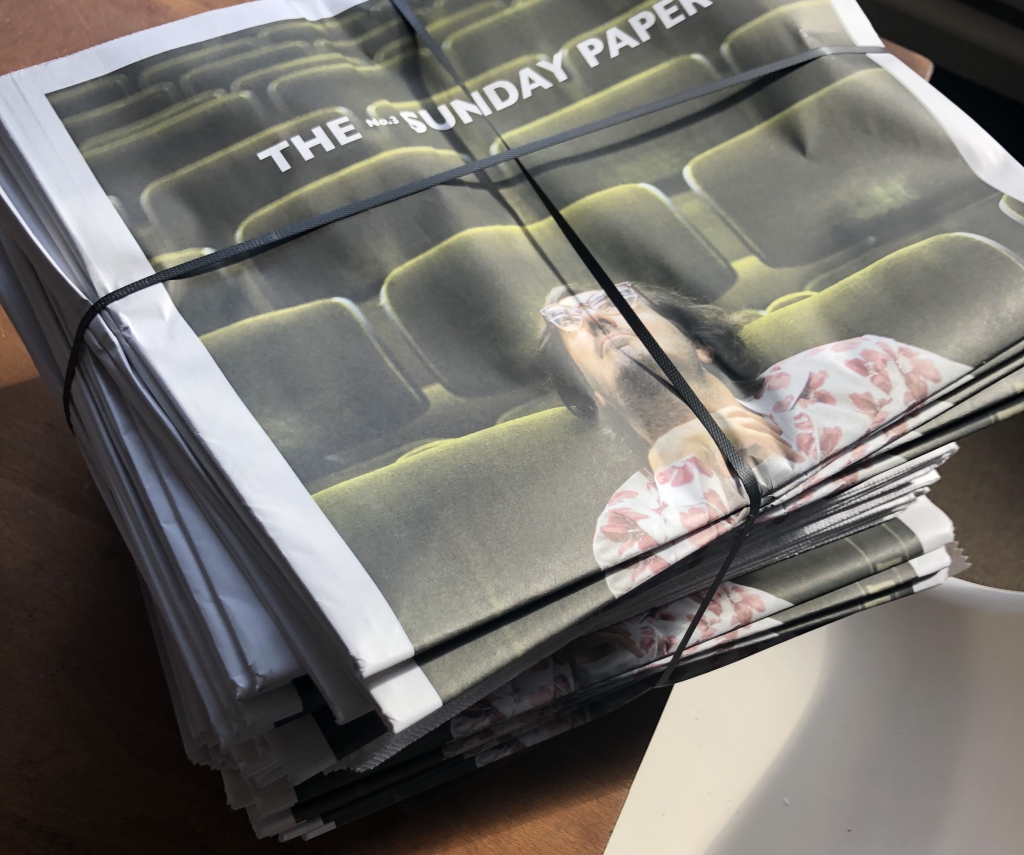 Desmond & Dempsey make luxury pjs. Here is what Cofounder Molly Goddard has to say about the newspaper they create each quarter: "Our brand was founded on a love of Sunday mornings... the tea, coffee, breakfast in bed, pottering about, slowing down and being with the ones you love most. We want to give context to those ordinary morning moments and make them extraordinary... The Sunday Paper is our way of encouraging customers to get off their phones and spread out with a broadsheet."
The Spoke Handwritten Note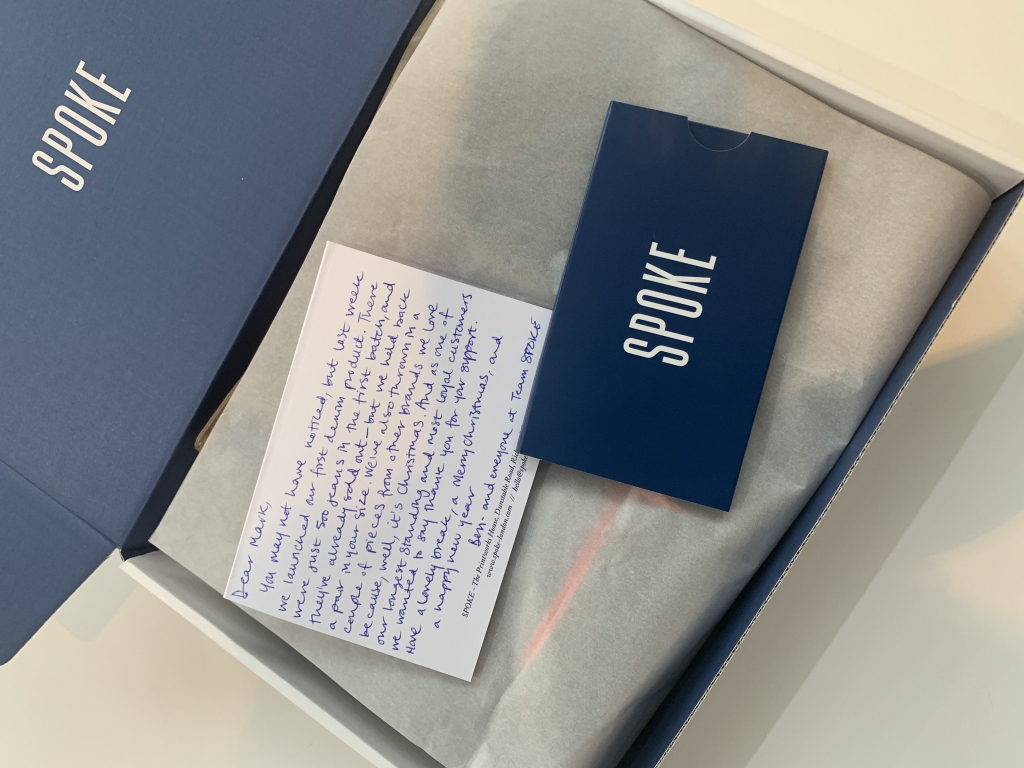 Spoke London make chinos. Here is what Head of Editorial Matt Hambly has to say about the handwritten notes they put in their packages: "At SPOKE we started selling trousers by word of mouth and were genuinely grateful (plus a little relieved) to find people agreed we'd made a product which really does fit as well as we thought. A great deal of work goes into all aspects of our business from a small and dedicated team, so where we can, we like to keep things personal. If we're writing a letter it's usually one of thanks and we feel that needs to be done by hand. Handwritten notes have a quality you just don't get from email or word-processing. When you think of an online retailer you tend to think of vast, robot-filled warehouses, or maybe that's just us? Either way, we love reminding people we know the little things matter as much as the big ones."
The Away Store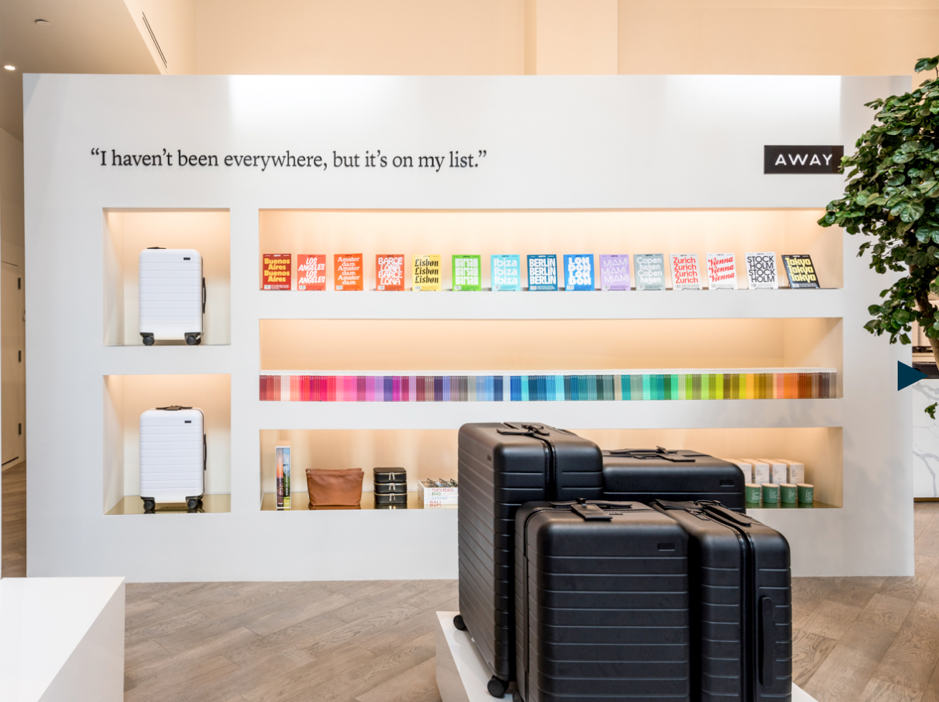 Away make suitcases. Here is what Co-Founder and Chief Brand Officer Jen Rubio mentions in an Appear Here article about why the eCommerce brand has created brick and mortar stores: "We view our stores as much more than a place just to sell products, but as a hub to bring together a community of people who love travel as much as we do. The offline experience is really important for us. Online, advertisements are everywhere and the more we're pestered by them the more we block them out. It's really hard now for a brand to catch attention online, which is why real-life experiences are so crucial."